Professional Syracuse Bathroom Remodeling Done Right
Bathroom Remodeling & Renovations – Syracuse
Professional Bathroom Remodeling Experts in Syracuse, New York
When you need bathroom remodeling services in Syracuse, NY, Empire State Pros is your go-to contractor source for complete Bathroom Design, Remodeling and Renovations services.  We specialize in total bathroom renovations, including major structural refits and design, not just covering up problem areas. We offer a complete selection of outstanding quality bathroom cabinets, fixtures, countertops, flooring and wall coverings, and believe in working closely with every customer to make their bathroom remodeling dream a reality.
In-Depth Bathroom Remodeling Experience
Your bathroom is an integral part of your home, and can have a significant impact on the value of your home. When you hire Empire State Pros, we are dedicated to not only your complete satisfaction, but also to make sure your bathroom remodel benefits your home's future resale value as well.
Whether you're looking to make simple changes to your bathroom, such as installing a new vanity, or more complex ones, such as creating a new layout, installing a new floor or adding brand new fixtures, the bathroom remodelers at Empire State Professionals Inc. can help give you the results you want.
Syracuse's Bathroom Remodeling Pros
Bathroom remodeling can be a huge undertaking and getting it done right is the job of only the most trusted bathroom remodeling and home improvement contractor.
Let our bathroom remodeling experts take the blank canvas of your existing bathroom, no matter how old it may be, and turn it into a bright, comfortable, relaxing space that is both beautiful and functional. Contact us today to schedule a free in-home consultation and estimate for your bathroom renovation and home improvement project.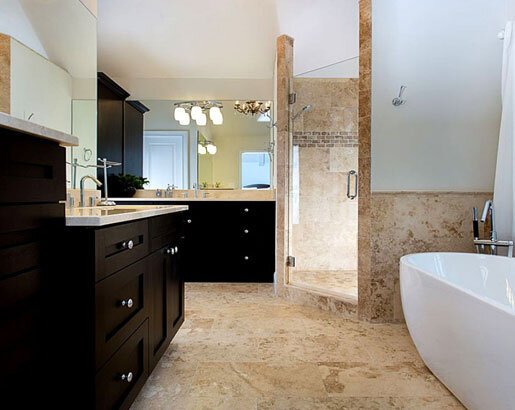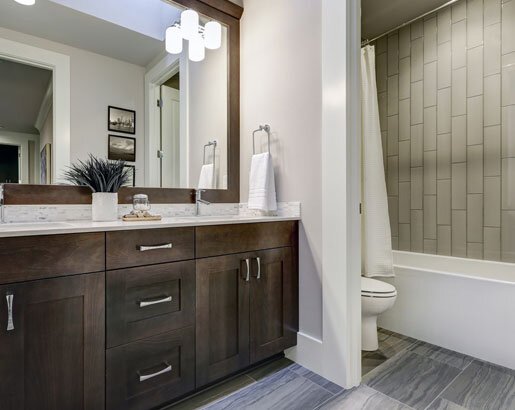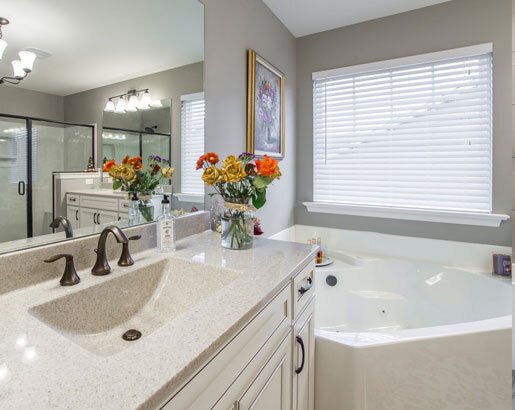 Detail-Oriented Bathroom Remodeling – Simple to Complex
When it comes to bathroom remodeling and renovation, it's the details that count. Trust the craftsmen at Empire State Professionals to guide you every step of the way – from choosing the right cabinets with the right finishes to selecting the right brands and models for your new bathroom fixtures. No matter where you live in Syracuse and Central New York, we are here to help make sure that your bathroom remodeling project gets done just the way you want it.
If you know you want to update your bathroom space but aren't sure where to start, the design and remodel experts at Empire State Professionals Inc. can provide valuable assistance. It doesn't matter if you're planning to sell or stay put for years in the future — we can provide design ideas for your bathroom remodel that fit your style, needs and budget.
For a fast, free quote on a new bathroom remodel, contact Empire State Professionals Inc. for more information. We are proud to serve residents and businesses of the greater Syracuse area, and we look forward to helping you transform your space.
Schedule Your Free Design Consultation
From functional, modern kitchens and bathrooms, to finished basements, attractive in-law suites, value-enhancing home additions and ADA-certified remodeling, Empire State Professionals, Inc. helps make your home renovation projects a reality.
Our process begins with knowing you and understanding your needs. Call us at (315) 503-0000 or fill out this short contact form. We will get back to you shortly to answer any questions you may have.