Emergency & Insurance Restoration – Syracuse & Central New York
Emergency Restoration & Construction Services
Insurance Restoration in Syracuse, New York
Empire State Professionals is a locally owned Syracuse residential and commercial contractor that specializes in insurance restoration projects for both commercial and residential property owners. We provide emergency restoration services, including water damage restoration clients in Syracuse, New York and surrounding areas such as Cortland, Utica, Rome, Watertown, Auburn, Waterloo, Geneva and surrounding upstate New York counties. Our experienced team has years of experience in insurance restoration, renovation and construction.
WATER DAMAGE
Empire State Professionals is one of the most experienced water damage property restoration construction companies in the Syracuse, New York area. We work directly with your insurance company for water extraction and water damage restoration. Regardless of the cause or extent of water damage, Empire State Professionals has the resources to get the job done properly and professionally. Water damage can be particularly destructive if not dealt with immediately due to the onset of toxic mold. We are available 24 hours a day, seven days a week to respond quickly and immediately to your needs.
MOLD REMOVAL
When the growth of mold occurs, the danger of health problems in individuals exposed to the mold grows dramatically. Getting rid of mold in your home or commercial space requires the latest in professional mold inspection equipment to eradicate both visible and microscopic mold particulate. Empire State Professionals offers the best mold remediation services in Syracuse and Central New York, keeping in mind that your health is paramount.
FIRE DAMAGE
From the initial call to boarding up a home or business after a fire, Empire State Professionals will handle everything for you, even right down to finishing touches. Trust your home to one of the best fire insurance property restoration contractors in Syracuse, NY. We provide fire restoration contractor services for homes, multi-family dwellings, small and medium size commercial properties.
Experience When It Counts Most
At Empire State Professionals, we focus on providing timely and efficient contractor services to customers who have suffered major insurance losses. Our Syracuse based insurance restoration contractor services include comprehensive emergency restoration services to complete reconstruction and restoration. Our professional restoration team is fully trained and experienced and ready to assist in your insurance property restoration needs. To offer the most comprehensive services possible, we have a dedicated team of project managers, supervisors, and subcontractors to handle virtually any project. We utilize comprehensive project management, cost analysis, and estimating tools in all our projects.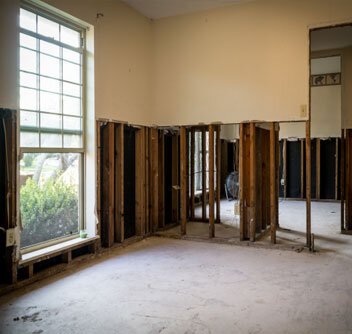 Schedule a Free Site Consultation
Syracuse and Central New York commercial and residential facilities and home owners rely on us to provide solutions to their environmental and construction challenges. Empire State Professionals, Inc. can help you with all of your environmental & construction needs.
Call us today at (315) 503-0000 or fill out this short contact form. We will get back to you shortly to answer any questions you may have.