Syracuse's Top Four Basement Finishing Projects
Every Syracuse homeowner knows that a basement remodel is a cost-effective way to add additional living space to your home while at the same time increasing the resale value of your property. And when people decide to finish their basement, you might be surprised by what Central New York homeowners are doing with their basements, putting their unique imprint on the finished remodeling project.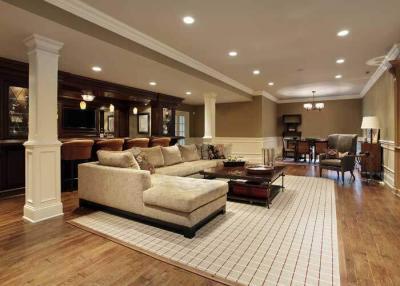 As a Syracuse & Central New York basement remodeling company, we have turned countless dreary and cluttered basements into bright, living spaces that add value to not only your home, but add additional opportunities to enjoy family life, and in the age of Covid-19, create remote working spaces that are pleasant, comfortable, and highly efficient with your own personal touch.
Here are the top four most popular Syracuse basement remodeling projects for 2021 that we're seeing in Syracuse and across Central New York:
HOME OFFICE OR STUDY
If space is otherwise tight upstairs, or if you need to get away from everything so you can work remotely on a regular basis, a full or partial basement refinish project is the perfect solution who needs privacy while working. It allows you to work area separated from your personal spaces, with all that goes with working remotely – whether you work for a large company or are self-employed.
A PLAYROOM FOR THE KID'S
Think fun and frolic for kids and adults alike with space designed for laughs, good times, and making family memories to cherish for a lifetime. Easy to clean washable walls and surfaces, colorful area rugs, cushioned safe spaces for the kids. Washable carpeting or better yet PVC flooring. You can even install washable, durable wood-like flooring for added warmth.
HOME THEATER
Basements usually don't have windows, and if they do, they are small so you don't have to worry about sunlight or disturbing outside noise. It's a perfect setting for a home theater to watch the latest streaming movies or sporting events. Make the room high on comfort, include a vintage popcorn machine, and indirect, dimmable lighting with a huge screen and let's go to the movies!  And don't forget to give your sound system everything you've got, especially when it comes to the bass.
HOME GYM & FITNESS ROOM
Winters in Syracuse and Central New York can be brutal and while you want to keep up on your fitness routine, the prospect of battling three feet of snow and howling winds is less than appealing. Install your own home gym and throw in a small vent-free fireplace and you're set to go with strong, resilient, shock absorbent, water resistant rubber flooring that is ideal for reducing impact and is great for placing exercise equipment. Lots of light is a must, but also consider adding mood lighting and a sound system as well.
We hope we've given you some ideas for your own Syracuse Basement Remodeling project. We are experts when it comes to Basement Finishing and would love to talk with you about your own basement renovation project. If you would like to see how we can help, contact us today and we will be happy to provide a no obligation, complimentary in-home basement finishing consultation.
We take enormous pride in the excellence of our design work, customer service, and craftsmanship. Call us at 315-503-0000 for a free consultation and let's start the process of turning your unfinished basement into the great living space you want and need.