Syracuse Home Remodeling & Renovations: A Look at Cost Influences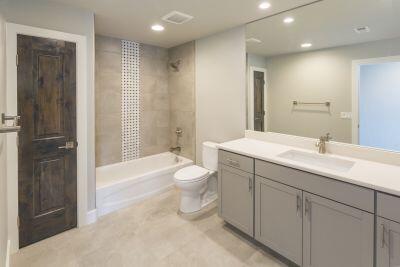 When you own a home there can be several factors that make you realize the space you have is not enough. Perhaps your family is getting bigger or you simply want more room to spread out. A better alternative than moving and going through all that hassle is to simply do a home addition to create the space you want.
Empire State Professionals has helped hundreds of homeowners expand their existing homes by remodeling or updating interior spaces that are not only functional but beautiful.
Home additions can vary in price depending on what needs to be done and the materials used. This time of year, people's attention turns to interior home remodeling projects, such as basement refinishing and remodeling. The factors discussed below are what may influence the cost of your home renovation or home additions project.
Layout and Design
If your home as a complex then it will take a contractor more time to complete a project and therefore the labor costs will be higher.
If you are looking to have a multi-story expansion then you are not only expanding out but up as well and that will influence the cost.
For many expanding the master bedroom is a popular option. If this room is on a second story then again this will make the project more complex and the cost will be more.
If you are unsure about the most affordable and beneficial way to modify your home's layout, don't worry. Empire State Professionals will work with you to create a beautiful space that works within your budget and lifestyle needs.
Custom Features
The features you choose to have in your remodel will have a significant impact on the cost of your home addition. A kitchen or bathroom remodel will typically cost more than a bedroom addition simply because of the installation of appliances, cabinets, and countertops.
According to the 2020 Cost vs. Value report, the cost of a kitchen remodel can fall anywhere between $23,345 – $133,646 in the Syracuse area. This cost does not include the cost of a kitchen addition.
A bathroom remodel can range in cost from $21044 to $66,317. These numbers illustrate how drastically features you include can influence the total cost.
Size of Addition
When it comes to home remodeling or home renovations the size of your home and the project are big factors. Not all rooms are created equal. For example, the owner of a small home redoing the maser bathroom will pay more than someone with a larger home upgrading their family-room. The reason is that the bathroom will require more custom features (counters, cabinets, plumbing connections, etc.)
Location
Where you like can play a part in the cost as well. Take shipping costs for example. If materials have to be shipped to your location then the will add to the cost.
For many large remodeling projects sometimes require a lot of machinery and building materials. The more difficult it is to move things the more time it takes and the price will go up.
When it comes to home renovation projects many homeowners overlook these costs since they are directly tied to the price tag of the project. They are important to know when considering the price of your project.