Basement Remodeling & Renovations
So, your home has a basement that is nothing more than a catch-all or a place you go to do laundry. With a finished basement, you can add more value to your home and create a space that is more functional for you and your family.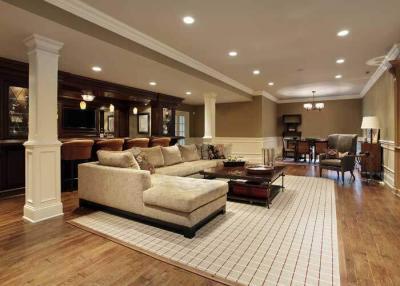 Before you remodel your basement, talk to an experienced basement remodeling & home remodeling contractor who can help you see the future use of that room and help you make decisions along the way.
They will be able to tell you how the decisions you make can affect the final look. Take adding a drop ceiling for example. The moment you do that it feels cheaper than if you keep the space like the rest of your home. A drop ceiling will also take away ceiling height and it will make space feel a lot smaller.
Basement Remodeling Considerations
You can maximize the space in your basement by adding built-in shelving and storage areas. You don't want to go overboard with too many built-ins because it could be very expensive and you are likely not going to get a full return on your investment when the time comes to sell. You should keep it simple and attractive.
If you want to make your basement have an inviting feel you can consider creating an open stairwell. Visually, it will help to connect the upper part of your home with the lower part and it will allow for more natural light to come in.
Is your basement cold? If so then the carpet you add is one element that you don't want to skimp on. Install a good quality carpet and you will find the room will feel much more comfortable.
When you are planning on getting a basement remodel doesn't underestimate the importance of having it match the rest of your home. It should feel like it belongs to the rest of your house and that there is a good flow. People will feel more comfortable in your new space.
If you have moisture in your basement that will have to be addressed first before any other changes can be done. The last thing you want is mold and mildew developing in your walls or carpet and padding.
Syracuse Basement Renovations & Remodeling Experts
Whether you are planning to build a home theater, basement living space, or man-cave, our experienced Syracuse, New York basement remodeling specialists can make your basement renovations vision a reality, quickly and affordably.  Call us today to get started on your basement refinishing project.