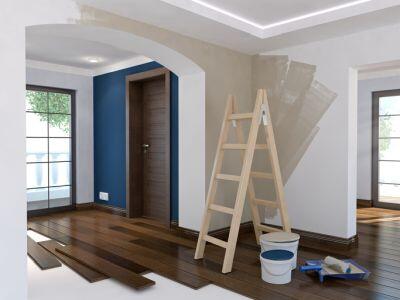 One of the most personally satisfying home improvement projects for Syracuse homeowners is changing up the color of your interior walls.  Painting your living room, bathroom, or kitchen is a project that deserves some careful planning. And choosing which color to paint your room is one of the most important decisions you will need to make. Choosing the right color for your interior painting project can be a stressful experience since you don't want to choose the wrong color, spend the weekend painting the room, and then end up hating the way it turned out. So how can you make sure that you are choosing the right color interior paint for the room you are redoing, but also that it's the right color and that you're going to like the end result?  Here are a few tips to get you going down the right path.
Painting Your Home Can Be Overwhelming
First stand back and look at the room.  Where is the center of attention? Is it the throw rug covering the middle of the room, or a grouping of family portraits on one wall?  Maybe it's the fireplace. How well lit is the room by natural sunlight?  Most paint brands now offer a really useful tool to help you find the perfect paint color for your room. You can go to their website and upload a photo of your room and then you can digitally try out different color combinations until you find the right colors for you.  Benjamin Moore, for example, offers a Personal Color Viewer, while Sherwin Williams has it's Color Snap tool.  It has been our experience, that it's always safe to stick with neutral colors, since if you want to change the curtains or drapes in a couple of years, you don't have to repaint the entire room.
Choices of Color and Finish
It is also helpful to explore cooler colors (shades of greens, blues or purples) since they are soothing and relaxing and can make a smaller room seem and feel bigger. Painting with warmer colors such as reds, yellows and shades of orange will bring to the room more vibrancy and life.
Before you dive in with both hands and brushes, buy a few small test cans of the various paint colors in which you are interested.  Also consider how interior latex paint will stand up to the rigors of family life versus a more durable and washable satin or semi-gloss paint in the same color.  This can be especially important in high traffic rooms such as kitchens and bathrooms.