Your deck like most is where you entertain and relax so it is important to keep it maintained. Over time, wear and tear will happen no matter how well you try to keep its damage away. Decks do have a relatively long lifespan but eventually, they will need to be replaced. They do add value to your home for less than other home renovation projects, so it is a good investment for the future of your home.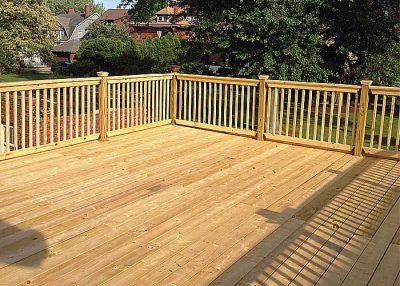 What Is the Average Lifespan of a Deck?
On average a natural pressure-treated deck will last about 10 to 15 years. The composite material deck will last roughly 25 to 30 years. Lifespans vary depending on the type of environmental conditions they are exposed to and the quality of the building materials used.
Often decks can be repaired if there are just minor issues so a complete redo isn't always necessary. If you aren't sure about the safety of your deck, have a professional deck builder assess the condition and stability of your deck.
Should I Repair or Replace My Deck?
While some minor issues can be repaired there are times when replacing your deck is the only answer. Here are a few things for you to consider.
Rotted Wood
Even pressure-treated deck wood over time will suffer from wood rot. When you have substantial rot then it's time to replace it.
Extensive Surface Problems
Warped, cracked, or split boards are typically the first thing you notice on a worn deck. If the issues are only on a few boards then they can simply be repaired, or you can have those boards replaced and your deck will continue to be safe. If the damage is more extensive over the surface it may be too far gone to repair.
Unstable or Loose Railings
Railings on a deck are a key safety feature. If they are loose, they typically can be easily fixed. An unstable railing could indicate a bigger issue with the deck and that could require a professional to inspect it.
Unsecured Ledger Boards
A ledger board is a board that anchors to your house. If this board is pulling away it is a serious concern. Many decks that are rotted or in severe disrepair have unsecured ledger boards. If this is the case with your deck, then the best thing you can do is build a new one.
Damaged Posts or Joists
Posts and joists are vital to your deck. They give it the support it needs and if they get too much damage or rot, they can't secure the structure well, and you risk your deck collapsing.
Extensive Mold or Water Damage
Often you can pressure wash a deck to clean off surface mold. It is when this mold penetrates deep into the wood surface that the boards can be weakened. Water damage can also cause wood to become soft rot. Treating a wooden deck with water repellent can help reduce these problems from developing, but over time they will occur.
Is It Time to Replace Your Deck?
If your deck has damage that makes it unsafe replacing it is a must. Especially if its damage could cause it to collapse and cause serious injuries. A professional contractor can build you a deck that is safe for you and your family to enjoy for years. There has been a lot of advances in deck materials over the years and today composite decking offers a lot that traditional wood decking doesn't. If you want a home improvement project that will be cost-effective a quality deck could be your answer