What is Composite Decking?
When it comes to decks, composite decking is quickly becoming the go-to alternative. But what is composite decking and why is it so popular?
Composite decking is a man-made product that is a mixture of wood fibers, plastics, and a small number of bonding agents. This mixture is then heated and formed into board-shaped lengths and then cooled. The end result is boards that require far less maintenance than traditional wood decking.
What are the Benefits of Composite Decking?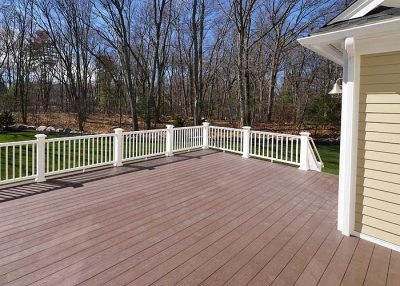 If there is one big benefit for homeowners of  installing composite decks have over traditional wood decking it is that it needs far less maintenance. The plastic content of the material is more durable and it resists rot, dampness, and insects. You never have to seal, stain or paint composite decking. Even direct sunlight won't warp or crack the boards. You can also say goodbye to splinters with additional plastic capping.
Composite boards have minimal water absorption so they are highly slip-resistant and are perfect for use around pools, docks, and other wet areas. Because of their durability, the lifespan of composite boards over wood boards is considerable.
Related: Installing a Beautiful Water Feature in Your Back Yard
Composite boards will indeed cost more than traditional wood but they will continue to look great year after year. In the long run, you save time and money because there is no cost in upkeep. This allows you to spend more time enjoying our outdoor space.
Types of Composite Decking
When talking about composite decking it is worth noting that it comes in two types, capped and uncapped. Boards that are uncapped usually a little bit cheaper. The difference is that uncapped boards don't come with the same protection against staining and fading. Typically, within a few months, the boards will fade a bit as the natural wood oils leach out after the boards have been exposed to the environment.
Boards that are capped come with an extra plastic coating. This aids in boards becoming very resistant to staining and fading. They are also easy to wipe and clean and they will retain their color even with environmental exposure.
Composite boards also come in hollow and solid varieties. Hallow boards have hollow chambers that run through the length of the board. Sold boards are stronger but are also heavier. Hollow boards tend to have hollow chambers running throughout the length of the plank, whilst solid boards are stronger and heavier.
At Empire State Professionals, we can create for you the deck you've dreamed of. Decks add valuable space to your home in the spring, summer, and fall months. After dealing with the harsh New York State winters why spend time and money with deck maintenance? Enjoy life and build family memories with a composite deck that is nearly maintenance-free.