Materials for Your Deck Construction
Little by little, we inch closer to warmer temperatures, and it can be hard not to think about spring and summer projects. If you are looking forward to enjoying the outdoors this season, then there is no better way than to add a deck to your home. Not only does it add value, but it also creates a great transition from indoors and outdoors living space.
When it comes to building a deck, one of the biggest decisions you will have to make is on the materials you will use. Wood decking is just like it sounds. There are two major different types.
First, there is pressure-treated wood which can be expensive and is chemically treated to resist mold, rot, and lesson insect damage. Secondly, there is redwood or cedar woods for decking. They have natural properties like you would get with pressure-treated lumber.
Composite decking is the next type of deck material that you may want to consider. It is a manufactured combination of wood fibers and recycled plastics. This material is then mixed together and then pressed into molds creating perfect-looking boards with a wood grain pattern. Because they are made with a considerable amount of plastic you don't have to worry about rot or insect damage.
To help you make your decision on what type of decking boards you may want to use we are going to go over some of the advantages and disadvantages. There are three major features to consider:
Durability
There is a clear winner when it comes to durability, with composite boards tops in the category. The material is dense and water-resistant, so you don't suffer the warping, cracks or splits that you often get over time with wood decking. A major benefit of composite decking is that it  requires far less maintenance like sanding and re-staining your deck.
All you need to do a couple of times a year is give it a quick hose-down and it will continue to look great. Some people say that composite boards can become worn in high traffic areas while denting and pitting are common in both composite and wood decking.
Natural wood decking, pressure-treated pine boards are less durable than cedarwood. No matter what type of wood decking you choose you will have to content with yearly re-sealing and/or staining to remain good color and protection.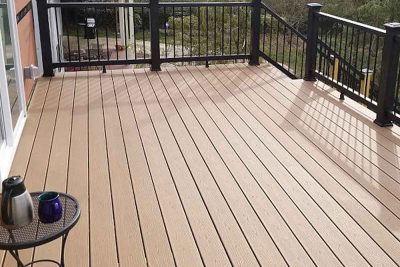 Appearance
This is no clear-cut winner here. There are those that say the natural wood looks far better than the plastic wood of composite. Composite decking typically is only offered in a few colors and sometimes the brown tones can come off as fake-looking to some.
For this reason, it could be why real wood decks add more value to your home's resale value. According to Remodeler magazine, they estimate a seller could recoup 83 percent of the insulation price when natural wood is used to build a deck.
Cost
When it comes to the lowest cost for deck construction materials then pressure-treated lumber is the winner. It is by far less expensive which is why it is often the most popular choice. You can expect to pay between $15 to $25 per square foot for pressure-treated lumber.
Composite decking is the most expensive at $30 to $45 dollars per square foot, but this is a one-time investment, and you have less maintenance, so it saves you in time as well. Composite also doesn't need sealers or stains so that too saves you money
The Bottom Line
Ultimately when it comes to building a new deck or restoring your old one, it comes down to personal taste, budget, and how much time you want to spend on yearly maintenance. If keeping costs down is important then go with natural wood but just know there will be yearly costs from maintenance products. If you desire to have a low- maintenance deck, then springing for composite decking would be the way to go.