Would you like to create more room in your house? Maybe create more living space for your family? Then we need to discuss how to plan a basement remodeling project. In many homes, this unfinished area can be transformed to expand your living area. It's a chance for you to customize an area of your home to your exact needs with the help of a home improvement contractor. Best of all you don't have to go through the hassle and expense of selling your home and finding another one just for more space.
Planning a basement remodel is a big project, but the investment is worth it in the long-term benefits you will enjoy for many years.
What Goes into a Basement Remodel?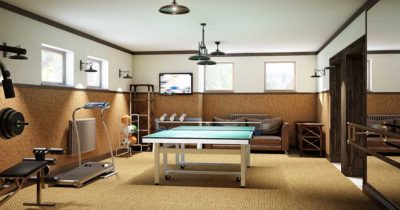 Because of the many details that go into a basement remodel. Speaking to a basement remodel specialist like Empire State Professionals can help you through the process. There are many details to consider, from structural elements but finishes and decorative details too.
Here are a few details you might want to incorporate into your basement remodeling plan:
Set Goals: As with any home improvement or remodeling construction project, it is important to have a set of well-defined goals before you start. What do you want to achieve with your basement design? How will it be used? This will help you create a floor plan to meet your family's needs. For example, maybe you want to add additional bedrooms or make a game room for entertainment. Knowing how you want to use the space will make it easier to create the ideal floor plan.
Consider the Space: Look at the square footage that you have available. Determine where you want things to go. Working out these details will save you not only time but money. Let's say you want a wet bar or bathroom on the existing plumbing that can avoid additional piping a more.
Functional Details for Basement Renovations: It can be fun to think about how you will enjoy the newly basement renovated space. It's important to think about details like working around columns, waterproofing, and ensuring the correct HVAC, electrical, and plumbing systems. This is where a professional contractor is vital.
The Do's and Don'ts of Basement Remodeling
If you plan on taking on this home renovation project, here are some dos and don'ts you must follow as you weigh the benefits.
Do: Know the Space You're Working With
Renovating your basement can save you money and aggravation because you do not have to worry about zoning codes like you would if you were looking to add an addition to your home. Plus working in your basement will ensure your new space isn't encroaching on anyone else's property.
A basement remodeling project needs to be well planned. Make sure your contractor has experience in basement remodeling.
Don't: Forget to Protect Against Moisture
Basements are notorious for being damp places in the home. You may need to invest in waterproofing before work can be done to the walls to prevent moisture damage. If you are planning for the space to be a laundry room or storage, you can get away with a little moisture. If you are transforming the space into an extra bedroom or entertaining space, you want it to be cozy with carpet and any electronics so waterproofing is a must.
Don't: Ignore Building Codes
A basement remodeling company will know the local building codes and ordinances, they will also be familiar with the local weather and climate issues like drainage. Basements are where many pipes, heaters, and radon mitigators are located. Not having experts transform your space could cost you.
Do: Invest in the Best
Tackling a basement remodeling project on your own may seem like a cost-saving plan but hiring a home renovation company ensures that mistakes that are commonly made by individuals are not done. This saves you time and money and you know the job is done right.