A deck offers your home a wonderful place to entertain with friends and family, a nice place to relax or to dine outdoors, or to just sit enjoy your own backyard. If you are thinking of adding a deck or replacing an old worn-out deck, you will have to think like a designer and an architect.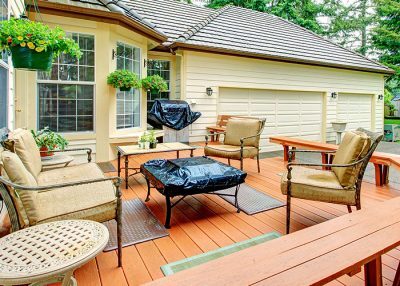 You will have to consider the type of decking materials and the type of railings that will be used. Will customs stairs need to be built and what about lighting? When thinking about deck construction there are lots of things to take into consideration. At Empire State Pros we are here to help you select the right decking materials so your new deck is the addition to your home that you will be proud of.
When it comes to hiring a deck construction contractor in Syracuse NY, some of the decisions you will have to make when considering your future deck design are: How big of a deck do I want? Which materials will be the most durable? What style of decking will compliment my home? At Empire State Pros we will help you make those tough decisions and walk you through the whole deck design process and assist in helping you choose materials like pressure-treated lumber or composite decking.
Pressure-treated decking is widely used for a lot of decks because of its affordability. This material is infused with a chemical preservative that helps to keep the wood immune to decay from fungus and insects. This option allows you to have a natural wood deck that can hold up to the elements.
Composite decking has changed a lot in the last decade. It is a blend of wood particles and plastic that is low-maintenance. This material is growing in popularity for decks because it requires virtually no care and it is resistant to deterioration and rotting. There are a variety of high-quality composite decking products available in a variety of colors.
A few of the most popular brands we install include:
Trex Decking – A 95% recycled complementary decking and railing product.

Vinyl Decking – A high-quality vinyl decking offers years of durability, beauty and economy.

MoistureShield – An innovative composite decking with superior water resistance.

Azek Trim – A composite exterior trim product that offers easy installation.
A deck is a great decision for many homeowners. We take pride in helping customers and we aim to be a total solutions provider. We will help design the deck you want with a range of options that will match your style. Our years of deck & patio construction experience are at your service.